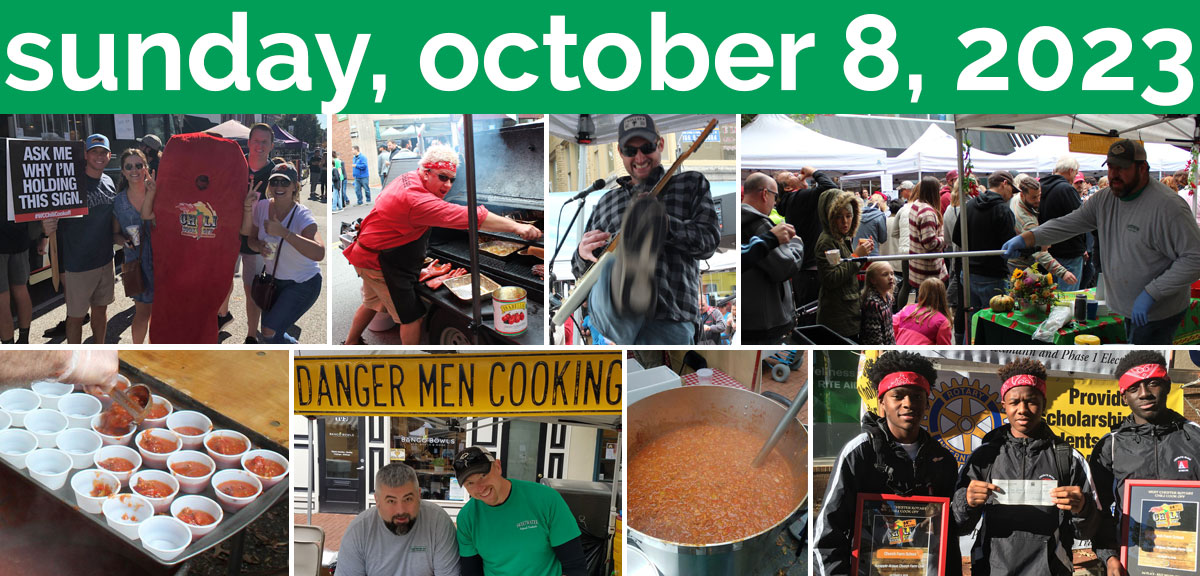 Congrats to the 2023 Chili Cook-Off Winners!
Iroh Hill Brewery & Restaurant
Iron HIll's 25th Anniversary BANGIN' Chili


Ryans Pub
Ryan's Galway Chili


The Brickette Lounge
Smoked Brisket Texas Chili


Disc Hounds
Chow Down Chili


Wetzel Gagliardi Fetter & Lavin
Illegal Chili


Dana Marie Events, LLC
Flower Power Chili


Church Farm School


Scrapple-licious Church Farm Chili


K of C
Pepper Perfect Chili


The Hickman
Rodney's Rockin' Chili


HOMETOWN/VOLUNTEER DIVISION


Parrot Troopers
Breathe In, Breathe Out, Move On


Breaking Beans
Breaking Beans


Hammacher and Schlemmer
Hammacher and Schlemmer


White Manor Country Club
White Manor's Chili

The Rotary Club of West Chester is preparing for the Annual West Chester Chili Cook-Off which will take place on October 8, 2023. For our 21st year, we are turning up the heat on the streets in an effort to raise more money than ever before.
In 2022, with an impressive post-COVID return, we were able to raise $60,000 toward Food, Clothing & Shelter for the needy of Chester County. With your continued support we can exceed this amazing accomplishment and make a bigger impact in our community.
What is the West Chester Rotary Chili Cook-off?
On the 2nd Sunday of October the streets of Downtown West Chester close for a day of food, fun and philanthropy. 50+ chili teams, comprised of restaurants, businesses, hometown cooks and non-profit organizations, set up shop right on the street and cook chili vying for the coveted People's Choice Award (the best darn chili in Chester County). As the streets fill with the aroma of perfectly seasoned meat and beans thousands of hungry chili fans arrive to shop the amazing array of artisan vendors, visit the kid zone with their families, stop in to the local bars for a brew and most importantly sample all the chili they can eat and cast their vote for the winning recipe. As the day draws to a close and the votes are counted one lucky team is crowned the winner and in addition to bragging rights receives a cash prize of $2,500.
This event that brings families and folks from all over the greater Philadelphia region does so much more than provide a festive way to fill a Sunday afternoon. All the proceeds from the event benefit those in need through the Rotary Club of West Chester whose motto is, "Service Above Self." Since the West Chester Chili Cook-Off began back in 2002 the Rotary Club of West Chester has raised almost half a million dollars which they have used to do good in the community and world. Specifically, we support agencies that meet folks housing needs, employment and job support and training, health and crisis therapy, victims of abuse and violence, help provide and deliver furniture for veterans and those coming out of shelters, help install water pumps for folks in Senegal, housing for children awaiting surgery for prosthetic limbs, hand and ears, etc. through our support of non-profits locally, nationally and internationally.
Giving Back
Since 1921 The Rotary Club of West Chester has been serving the community and the world through hands on projects and fundraisers. One of the great things about the Chili Cook-Off is its ability to bring the community together for a fun packed day but yet raise the funds needed to help change the lives of others. Be sure to check out the grant ceremony during the event where thousands of dollars in charitable grants are awarded to local non-profits. These organizations address such issues as homelessness, hunger, education, domestic violence, and medical needs. Through the work of dedicated volunteers and friends and neighbors we are able to leave the world a little bit better than we found it each and every day.
Interested in learning more about Rotary? Join us for lunch. We meet every Thursday at noon at the West Chester Golf and Country Club. Comprised of over 100 members our club is filled with local business men and women who are dedicated to Service Above Self. For more information visit our website at: WestChesterRotary.us
The Rotary Club of West Chester is an international service organization who believes in "Service Above Self." We meet every Thursday for lunch and fellowship at the West Chester Country Club on Ashbridge Street. Learn more about our exciting service organization by clicking here.
EVENT SCHEDULE
7:30 AM
Teams & Vendors Arrive for Set-up
9:30 AM
Mandatory Chef's Meeting @ Chester County Bar Association
10:30 AM
Cook-Off Gates Open & Wristbands On-sale*
*Great time to visit our vendors and watch the teams create their amazing chili!
10:30 AM
Family Fun Center Opens
$10 entry for kids = unlimited inflatables
11:00 AM
Grant Recipients Announced on Stage @ Corner of Gay Street & High Street*
*This is possible with the proceeds from the Chili Cook-Off event!  
11:50 AM
Singing of the Star Spangled Banner
12:00 PM
Chili Served to Public
3:00 PM
Pepper Drop at Jack's Corner (Gay St. and Church St.)
3:30 PM
Awards Ceremony
4:00 PM
Event Breakdown